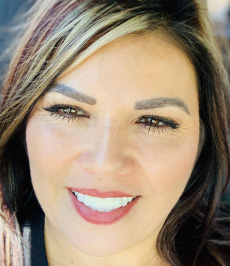 Sarah Leal-Lopez
Children's Ministry Leader
Sarah sees abundant beauty in seeing children reading and learning God's word. Coming from a small family with two sisters, she was raised in the small town of Strathmore where she received her preparatory education before moving on to college.
As a child, she witnessed her family facing difficult obstacles and observed her mother reading her bible for strength, courage, and answers. That vision positively impacted her life, developing her faith, knowing we are never alone. Throughout childhood and continuing today, she has witnessed God faithfully providing for her family.
Sarah's passion is to teach and care for people. She entered the nursing profession and loves everything about it. She is also a certified CPR instructor. She has mandated all teachers at LCC are CPR certified to ensure children's safety in case of emergency.
Sarah has attended Landmark Christian Center since 2014, first serving as a helper, then teaching, and now functioning as director. She still performs passionate teaching, and her husband Anthony oversees the security team, ensuring children's safety. Sarah incorporates terrific lesson plans, featuring bible-based instruction and hands-on activity every Sunday. A sign-in/sign-out procedure enhances safety. Sarah hopes to see you and your child soon, and you will ALWAYS be welcomed with open arms.